Marijuana Tourism in Barcelona
Marijuana tourism in Barcelona is booming, but there are many laws and guidelines that are likely different than what tourists have experienced in other cities, especially those outside Spain. Following is a summary of what you can expect regarding marijuana tourism in Barcelona.
Legal Scenario in Barcelona
The same laws apply to everyone, whether you're a resident or a tourist in Barcelona.
First, here's what the laws prohibit:
Acquiring or purchasing marijuana from any individual who is not an authorized employee in a legally operated cannabis club, social club or coffee shop. Unlike cities in the U.S. where marijuana is legal, Barcelona does not have dispensaries where essentially anyone can come off the street and purchase marijuana.

"Buying" marijuana, even in legal and legitimate cannabis clubs. In Barcelona, although marijuana can be "acquired" via membership in a club, it is technically illegal to buy or purchase marijuana. It's all a matter of semantics, but be sure not to use those terms.

Publicly consuming marijuana in any form (i.e. smoking or ingesting) — including streets, beaches, concerts, or any other public venue.

Transporting marijuana, even from the club where you acquired it. Of course, most people are not stopped and searched on the streets without good cause (i.e. public disturbance), but it's always recommended to conceal and safely secure marijuana whenever transporting it.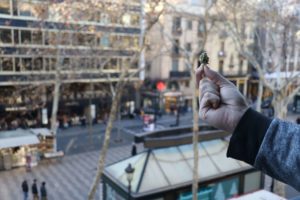 Things that are legally allowed
Acquiring marijuana in a legal and legitimate cannabis club, social club or coffee shop (which are all essentially the same thing) – but you must first be a member of the club. And in order to become a member of the club, you must request an invitation and pay the annual membership fee, which is the same fee for residents or tourists (typically between €20 and €50).
In addition to consuming marijuana on the premises of the club where you acquired it, it's also legal to consume it in the privacy of one's home. However, if you're staying in a hotel, you need to check with the management to see if it is allowed on the property. Although most hotels do not allow smoking of any kind in a guest room, it may be tolerated on a private terrace – but always check with management before doing so. If I'm a tourist and don't know anyone in Barcelona, how do I get invited to a club?
This is a common question and one that really doesn't have a simple answer. According to some recent changes in the law (which are still fuzzy), clubs may choose to offer tourists an "endorsement" in which you would undergo a personal interview along with the completion of a membership application/registration. The club itself can then choose to endorse you – and you'll have your membership after paying the membership fee.
If you do want to try this approach, always contact the club in advance to see if it's a possibility there. And don't expect a lengthy explanation when you do contact them in advance. What you can expect is a yes or no answer, but you must then go into the club for the personal interview process. Also, it's illegal for cannabis clubs to disclose information about their menu to the public. That's considered promotion, which is illegal.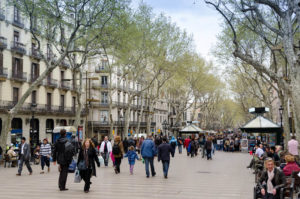 Being that cannabis clubs are currently the only legal method for tourists to acquire marijuana, here are some additional tips (and warnings) about them:
Never trust anyone on the street who tells you that they're a promoter for a certain cannabis club with an invitation to join. Real clubs do not use promoters or intermediaries. Many tourists end up in hospitals every year due to smoking fake weed sold by fake clubs. The best rule of thumb is to avoid any offer or invitation from anyone on the street who approaches you about marijuana and/or a club.
Don't leave anyone waiting outside the club. Police may think you're getting weed for someone else. If you're caught exchanging money and/or weed, you may be charged with drug trafficking and prosecuted as a criminal offender.
Bring a government-issued ID.  You need to have an ID with you at all times: a passport, driver's license or any ID from your country. Cannabis clubs don't accept student IDs.
Behave!!!  Be discreet, respectful and quiet at all times. Any misbehavior could result in permanent expulsion from the club.

Remember not to use financial words in connection with cannabis. Incorrect: "buy weed" or "purchase weed." Correct: "get weed" or "acquire weed".

Be safe, follow the rules — and enjoy!
Enjoying Barcelona (and marijuana) as a tourist is certainly possible, even probable. In fact, many consider Barcelona as second only to Amsterdam as the top European city for cannabis. With that said, marijuana is still not completely legal, so you must abide by the current rules and regulations for your own safety, peace-of-mind — and pleasure!
Stay tuned to this website for more updates, information, and education on all things cannabis!